Fire Treated Lumber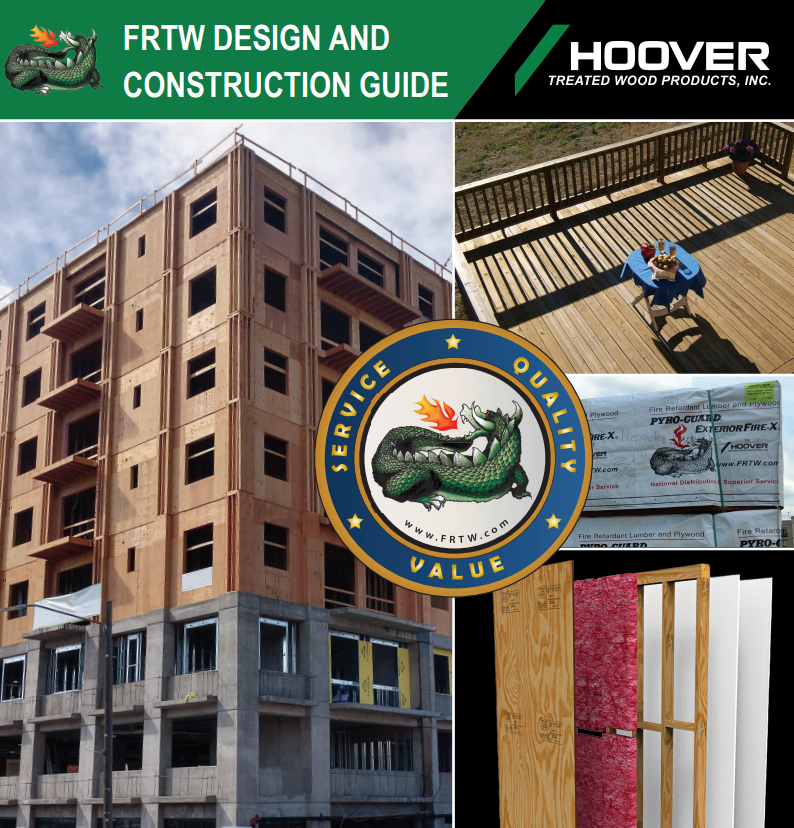 Interior and Exterior fire-retardant lumber helps you improve building safety, meet code, and get the job done.
Pyro-Guard is pressure impregnated deep into the wood to provide permanent protection, unlike coatings, which only provide superficial protection.
When Pyro-Guard treated wood is exposed to fire, non-combustible gas and water vapor are produced, and a layer of protective char forms, which hinders combustion and insulates the wood against further damage.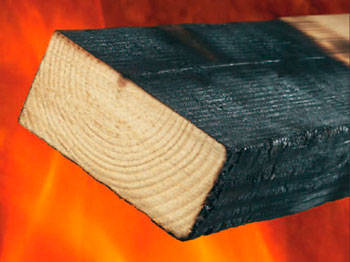 Pyro-Guard interior fire retardant treated wood has a low rate of fuel contribution and heat release, and it maintains structural integrity longer than other building materials such as steel. Consequently, fire damages and repair costs are minimized, resulting in reduced insurance rates.
Available Sizes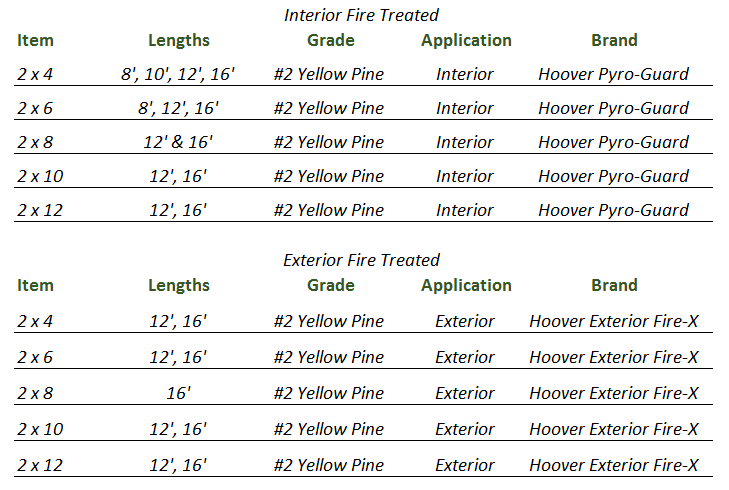 Interior Pyro-Guard used in interior commercial construction: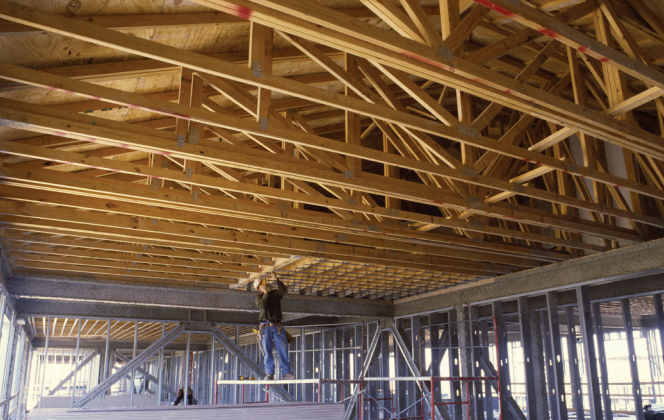 Exterior Fire-X used for a exterior hotel pergola: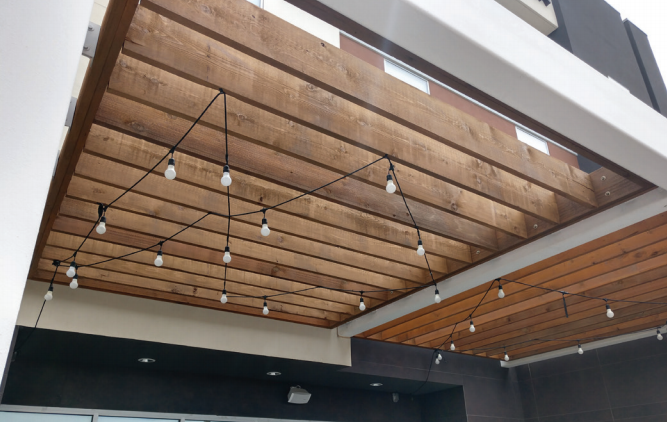 FAQ's
Q: Why should I use fire treated wood?
A: Most importantly, fire treated wood can save lives. Its treatment process helps to prevent combustion which delays fire and smoke spread. This delay gives occupants more time to safely exit the building and fire crews more time to control the fire. Additionally, fire treated wood can be a more cost-effective way to meet code and can lower insurance rates.
Q: Can I cut Pyro-Guard like normal wood?
A: Pyro-Guard can be cut to length, but it should never be ripped, routed, or milled.
Q: Is Pyro-Guard coated or pressure treated?
A: Pyro-Guard is fully pressure treated and provides full protection for the life of the product
Q: What's the difference between interior and exterior?
A: Exterior Pyro-Guard is treated for both flame blocking AND damp and wet conditions. The additional exterior treatments prevent the product from leaching and helps to maintain its fire retardant qualities in an exterior environment.
Q: What fasteners should I use?
A: The fire treatment will not corrode fasteners, so use standard fasteners for the interior, and galvanized or stainless steel for exterior applications.
Q: What are the main types of applications where I need fire treated lumber.
A: Always defer to your local code and building inspector first, but fire treated lumber should be used in applications where a 1 or 2 hour fire protection is required. For wooden structures, this mostly falls in the Type III construction class. Generally speaking, you'll find fire treated lumber used in 5 story multi-family framing, row town homes, and commercial buildings.
Q: If a commercial building is mostly concrete and steel framing, where could I use fire treated wood?
A: Any exposed wood, soffit, fascia, or signs should all be exterior fire treated, but this is still dependent on local code and zoning and is not a hard-and-fast rule.
Interior Fire Treated Specifications
Exterior Fire Treated Specifications
Exterior Fire Safety Data Sheet
Uses of Fire Retardant Treated Wood: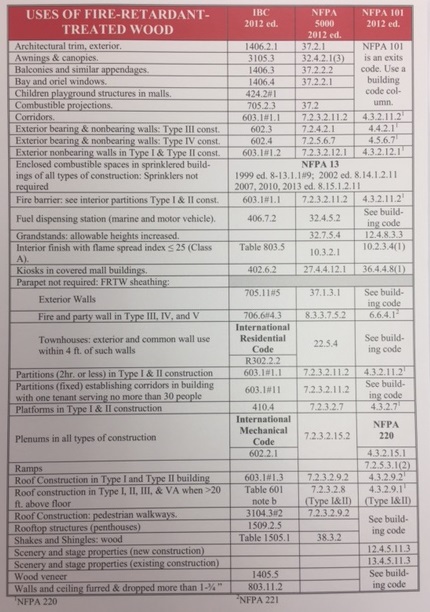 Fire Retardant Treated Wood Grade Stamp: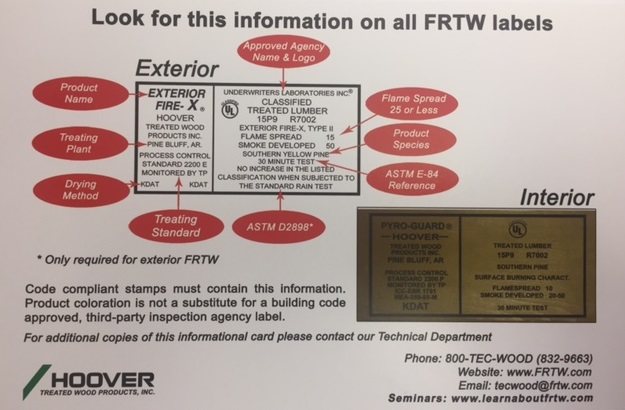 Advantages
-Construction with Pyro-Guard treated wood requires no special tools or skills.
-Pyro-Guard trusses and roof decks often qualify a masonry wall building as "non-combustible" for insurance purposes.
-Pyro-Guard can often be substituted for non-combustible materials without affecting building classification.
-Use of Pyro-Guard wood partitions instead of untreated partitions often allows for an increase in square footage and lower insurance rates.
-The use of Pyro-Guard wood roof decking is usually accepted in lieu of parapet walls in multi-family dwellings.
-Even when sprinklers are mandatory, the use of Pyro-Guard can further reduce fire insurance rates.
-Pyro-Guard is commonly accepted by building codes for partition walls, store fronts, fixtures and roof construction in shopping centers.
Fiber Source: