Engineered Wood

We offer a complete line of integrated Weyerhaeuser TrusJoist® Engineered Wood Products and have a dedicated team of Engineered Wood Product professionals at each location with decades of industry experience. Our professionals utilize the Javelin® software platform to design optimized Trus Joist® layouts for floors, walls, and roof systems. This proprietary software provides 3D modeling, detailed load and deflection data, and material layouts and cut sheets that give builders the power to plan, prepare, and predict.
It's this combination of proven manufacturing, proven software, and proven design that give homeowners the peace of mind in knowing that their project was constructed with the utmost precision and care.
In addition, we now offer Rosboro Douglas Fir Glulam and Treated Glulam products for interior and exterior exposed beams.
Our Services
Direct job site delivery

In-house design and layout

Training and education
Our Engineered Products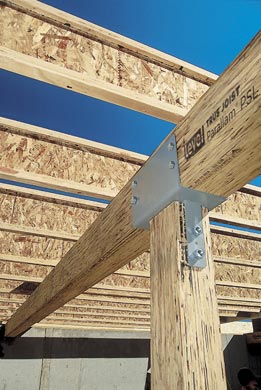 Microllam® LVL
Parallam® PSL Beams & Columns
Treated Parallam® PSL
TimberStrand® LSL Beams & Columns
TimberStrand® LSL Studs and Tall Wall Framing
TimberStrand® LSL Rimboard & Headers
Treated TimberStrand® LSL Sill Plates
Timberstrand® Stair Stringers and Bullnose Stair Treads

Shear Braces

Simpson Strong-Tie® Hangers

Glulams by Rosboro…. and more…
Send us your plans
We will design a complete floor system and provide a comprehensive cut sheet and detailed layout (see example)

We job-pack and deliver directly to the jobsite

Submit your plans using the form below, and be sure to include your contact information