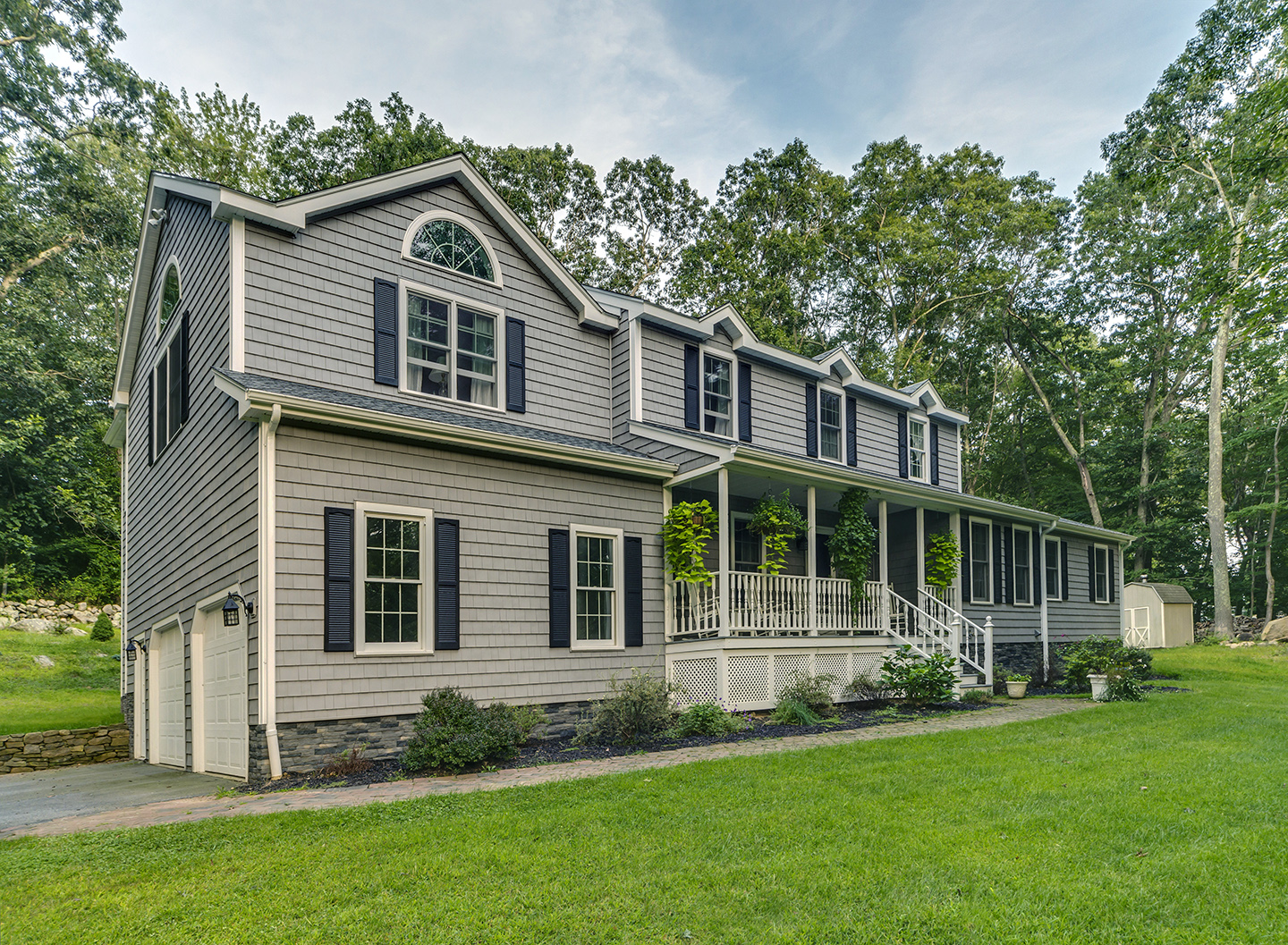 Tando Shake and Shingle siding is a new-age siding that mimics the timeless look of cedar shakes and shingles. These lightweight, easy to install panels speed up installation, and boost curb appeal. Excellent for dormers, gables, and entire homes, Tando Shake and Shingle is the modern solution for a classic look.
Features & Benefits:
-Mimics the look of traditional cedar siding
-Lightweight and easy to install
-Easy to cut and fasten, making it great for dormers and gables
-Comes in a wide variety of pre-finished colors
-50 Year Performance Plus Warranty
Available Profiles: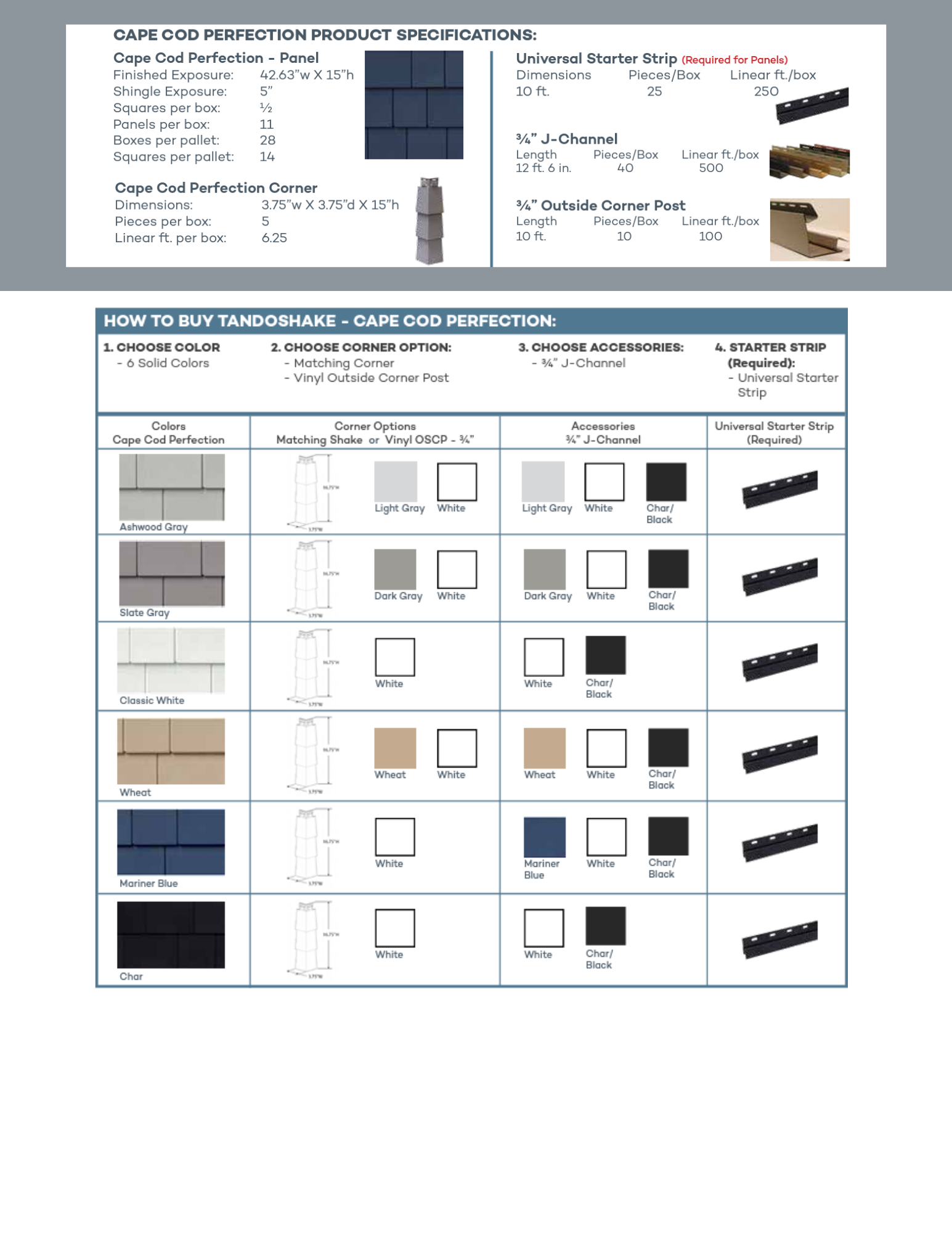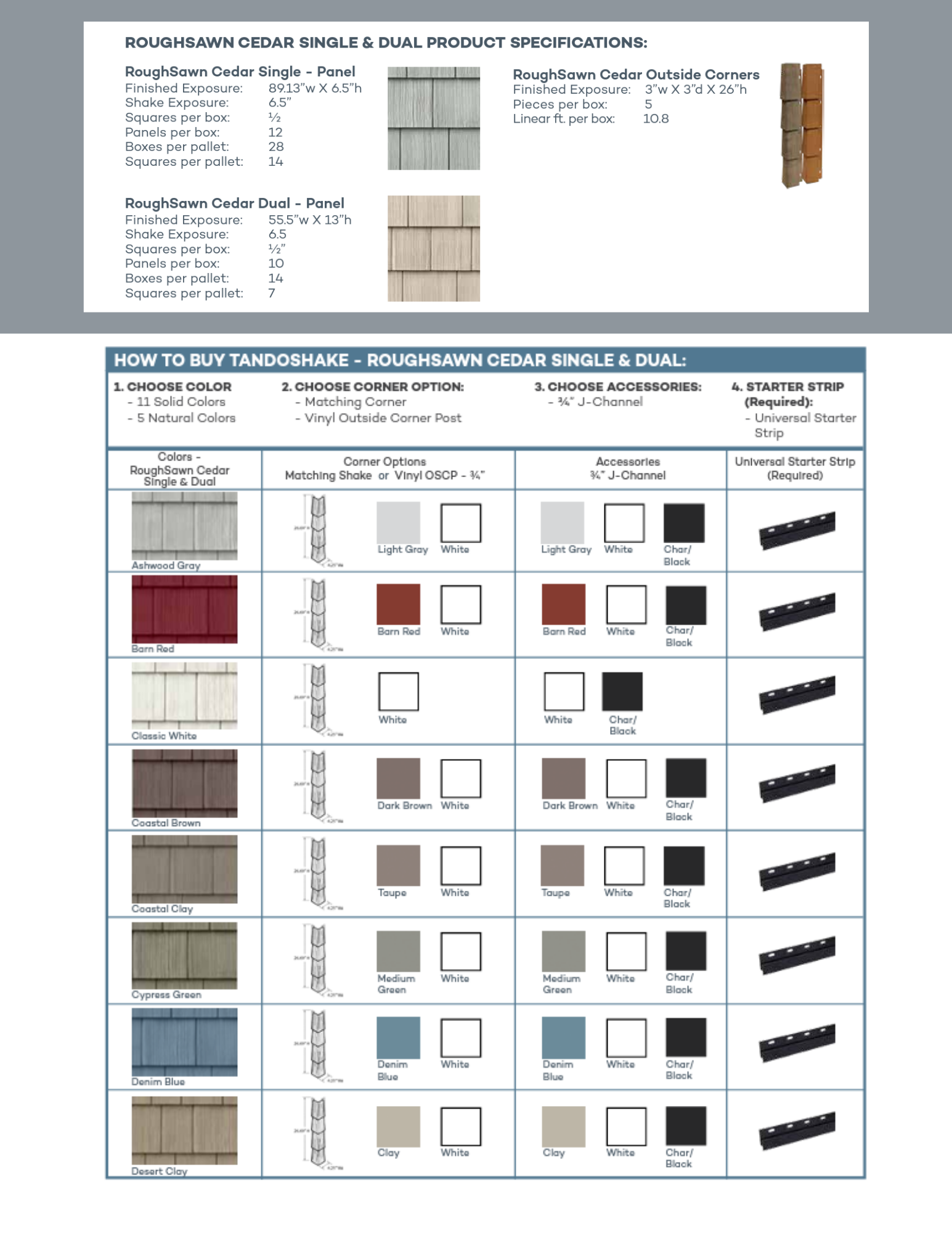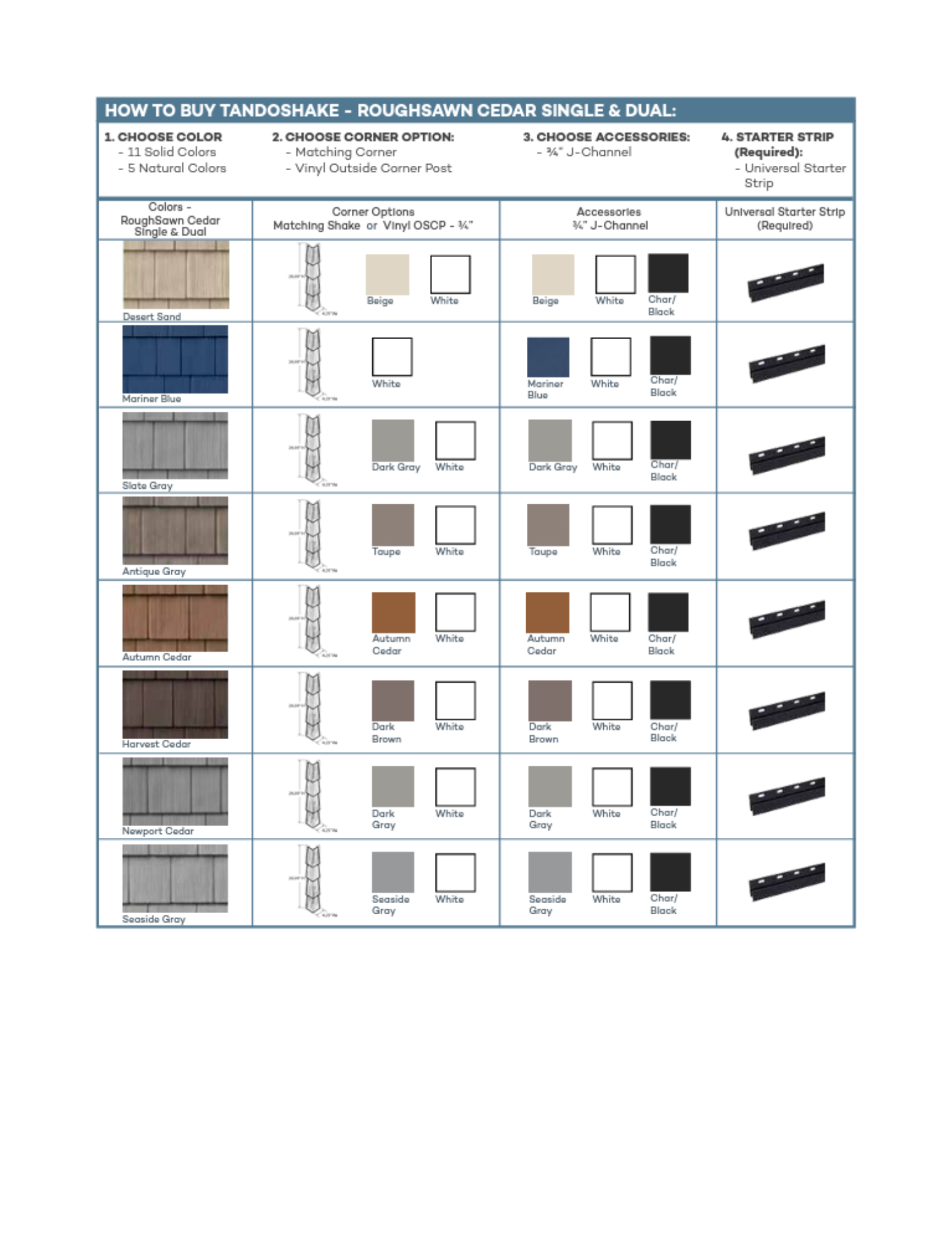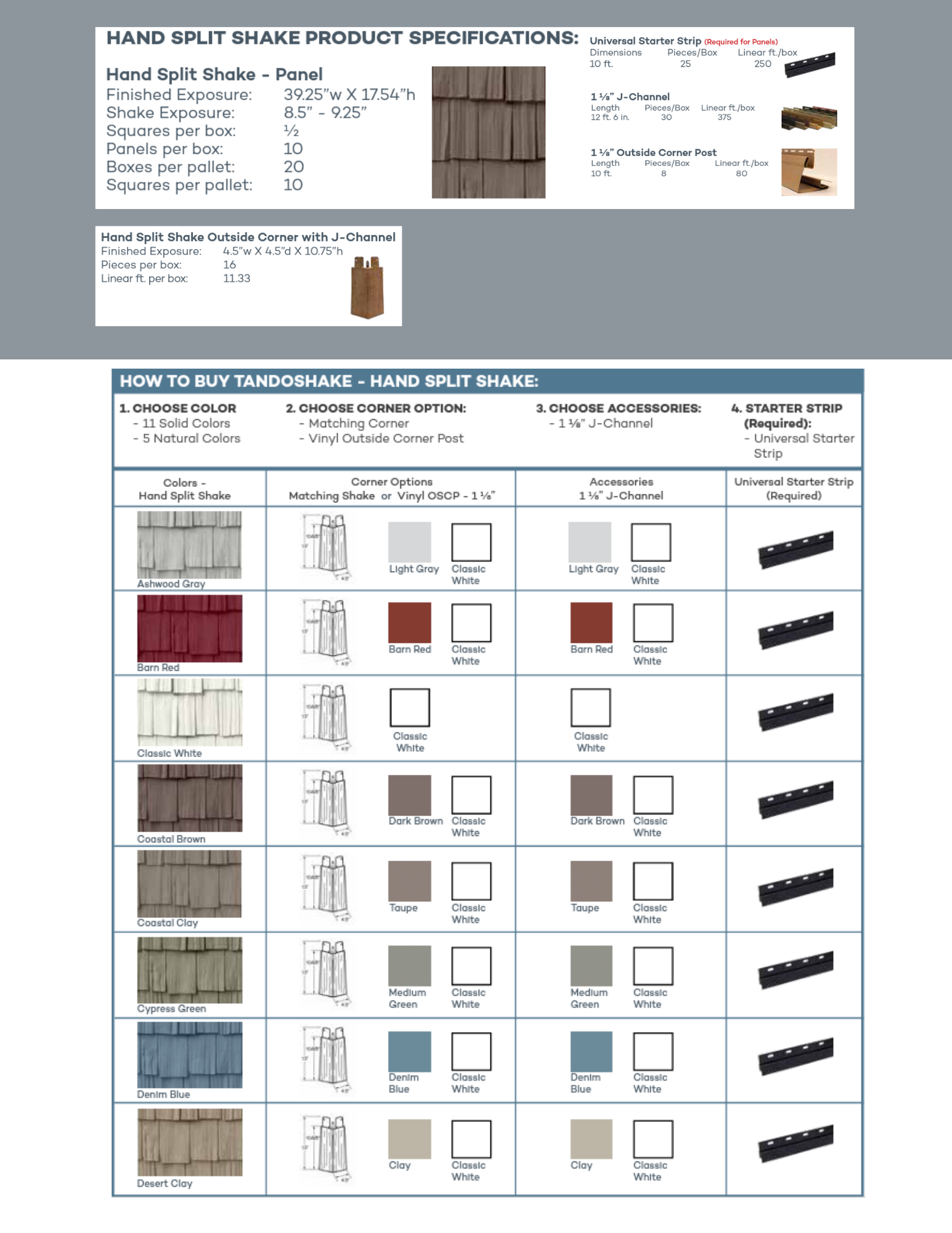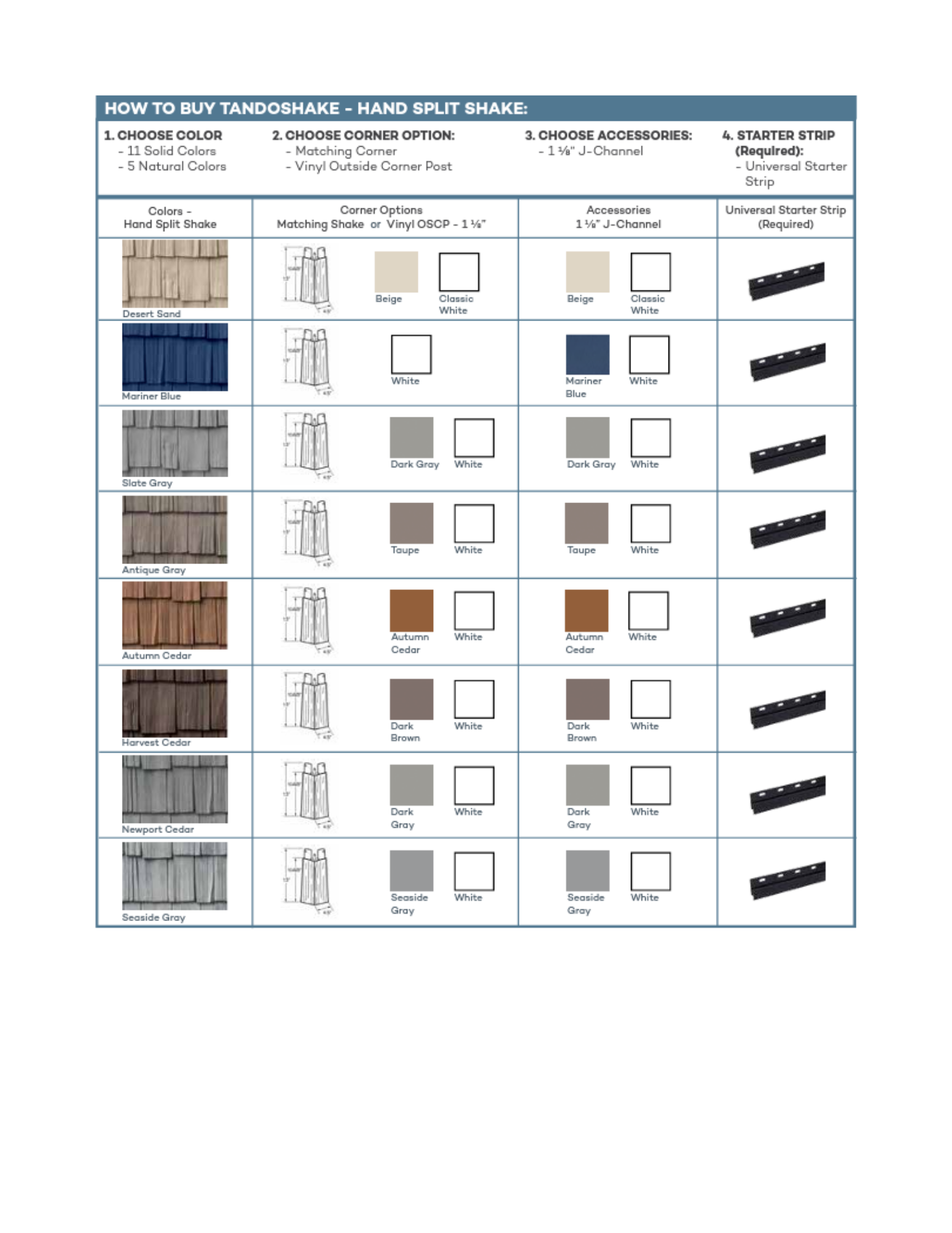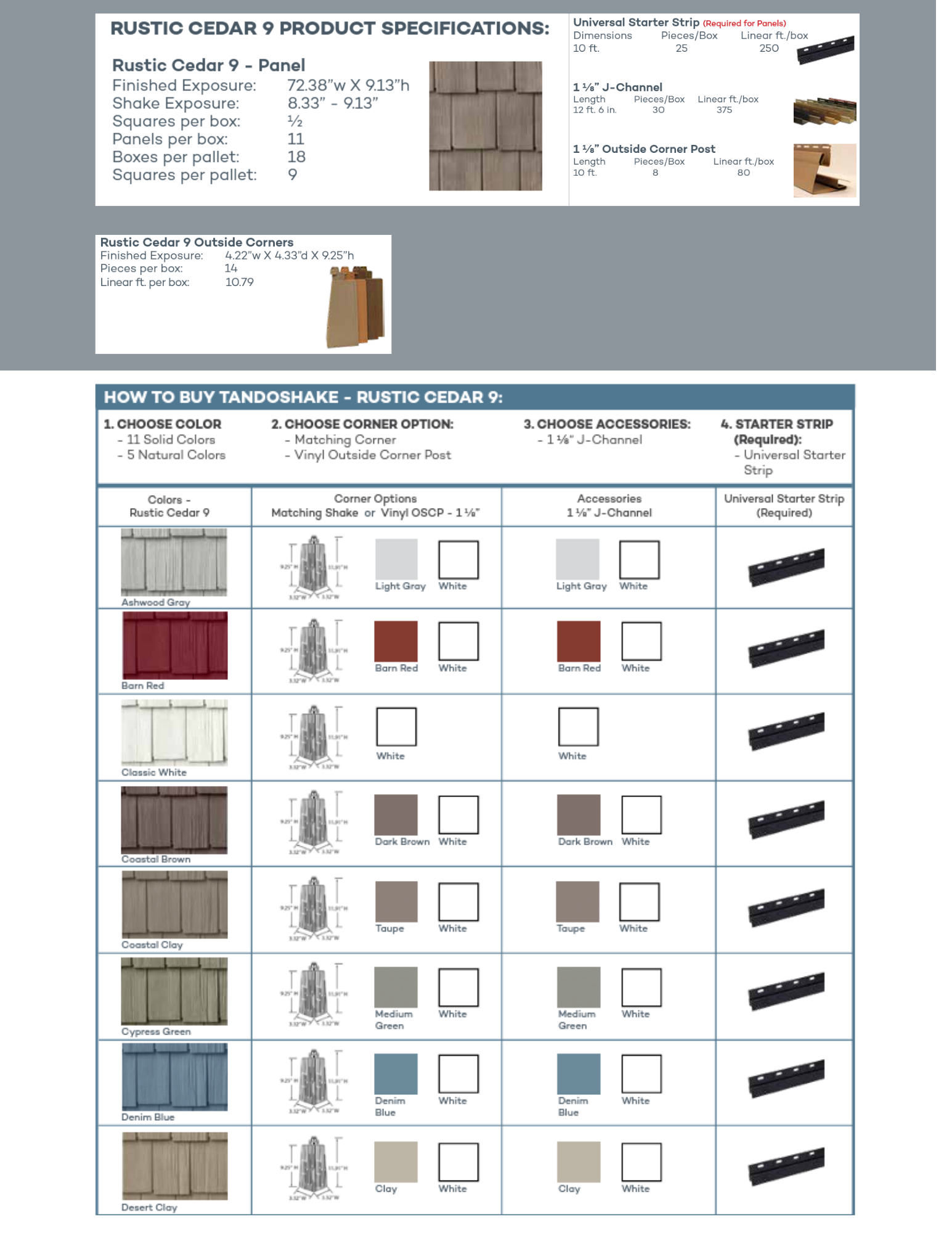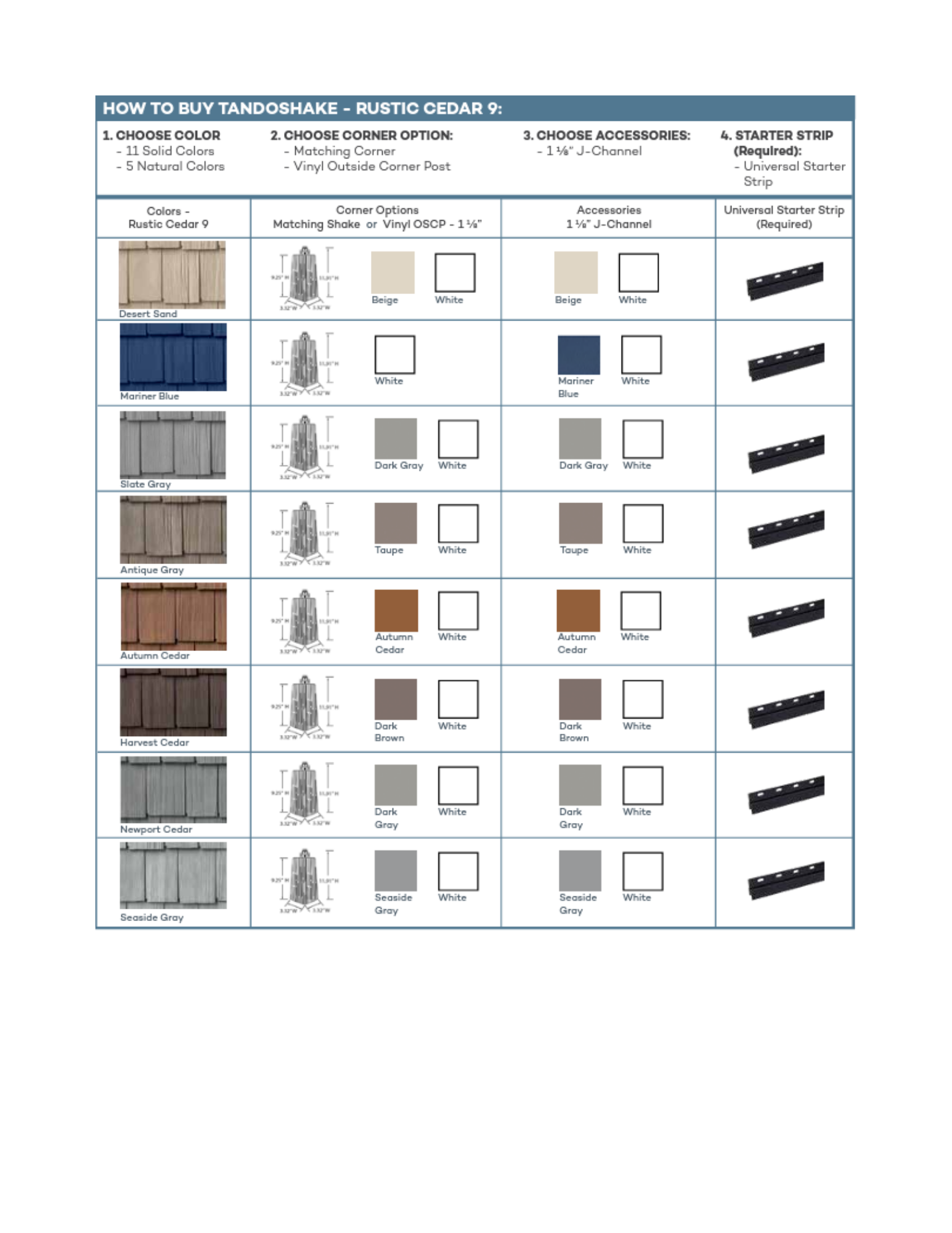 Click to see HD views of each panel!
---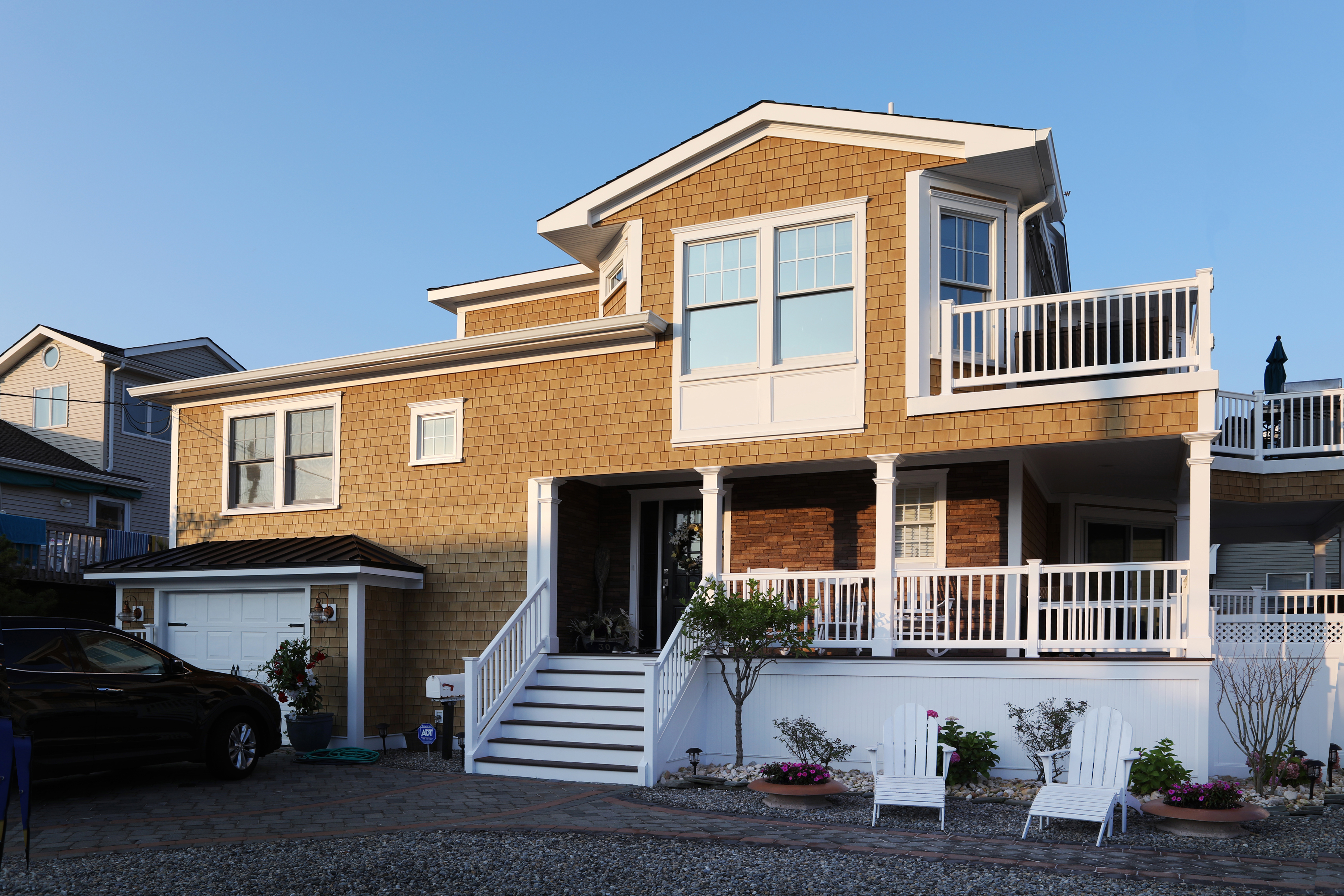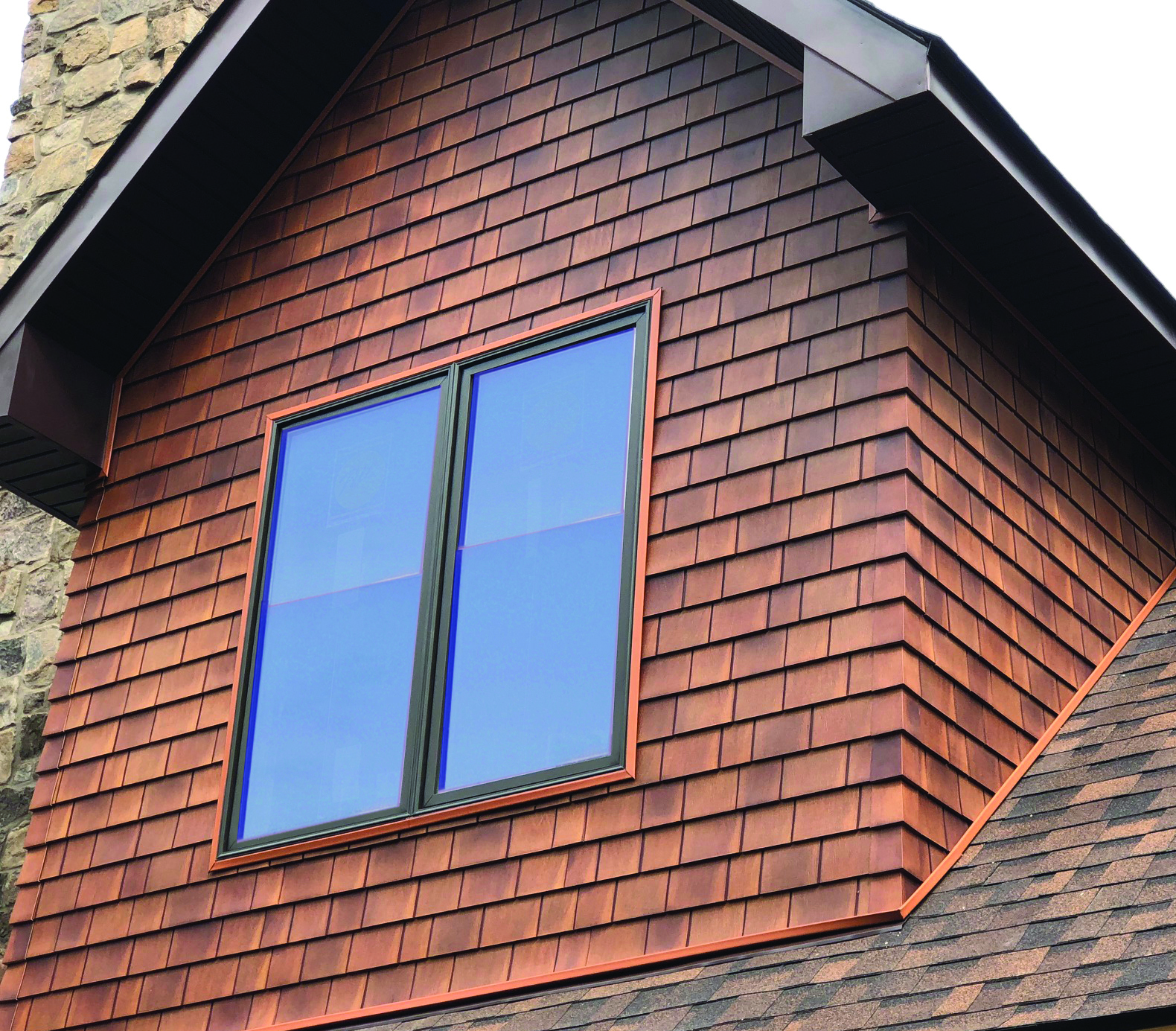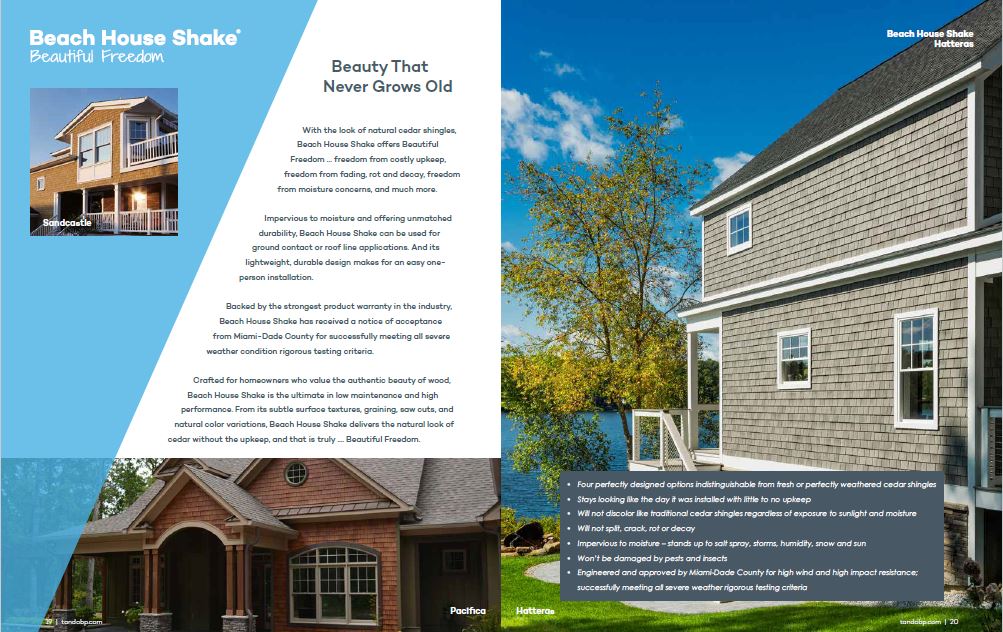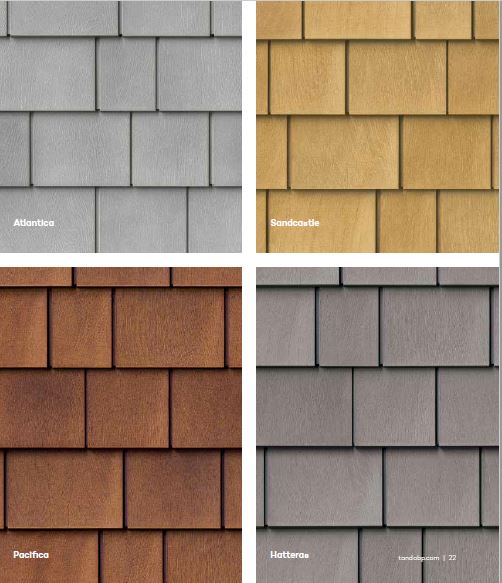 ---
Brochures & Documents:
PDF: Beach House Shake Brochure
PDF: BHS and Signature Stain 10 Year Warranty
Installation Guides:
Tando Shake Rough Sawn Cedar Single Course
Tando Shake Rough Sawn Cedar Dual Course
Tando Shake Rough Sawn Cedar Staggered
Tando Shake Scalloped Perfection
Tando Shake Cape Cod Perfection
Frequently Asked Questions:
What is Tando made out of?
Tando products are made of a durable, high quality, Polypropylene composite. Tando utilizes an injection molding process to create Tando Panels.
Are these UV Protected?
Yes - Tando uses a proprietary coating system which provides UV protection to help maintain the color of the product.
How thick are the panels?
It can depend on the profile, but generally speaking panels are 3/32" thick.
What is the expansion and contraction rate of the product?
Like all Polypropylene products, there is a degree of expansion and contraction that will occur during changing temperature and climatic conditions. These panels can expand and contract up to 1/8". However, each panel has a built in expansion joint that compensates for this expected movement.
Do I need to use house wrap?
Yes. Tando is considered decorative, so a house wrap is required for a water barrier.
How should I cut these panels?
It's best to use a circular saw or table saw.
What type of fasteners should I use?
It's recommended to use a non-corrosive roofing or siding nail. Make sure the nail head is larger than the panel's nailing hole, and your nail should penetrate at least 1/2" into a solid substrate. It is NOT recommended to use a nailing gun. Hand nailing is the recommended installation method.
Are Tando panels suitable for ground contact?
Yes. However if certain chemicals (fertilizer, ice salt, weed spray, etc) come into contact with the product, there is a chance of discoloration.
How should I clean Tando siding?
Tando is very low maintenance and will require minimal maintenance. On a annual basis, use a normal garden hose with light soapy water will to remove any dirt or mildew. Never use a pressure washer with Tando.
---
Installed Photo Gallery:
Roughsawn Cedar Dual - Slate Gray: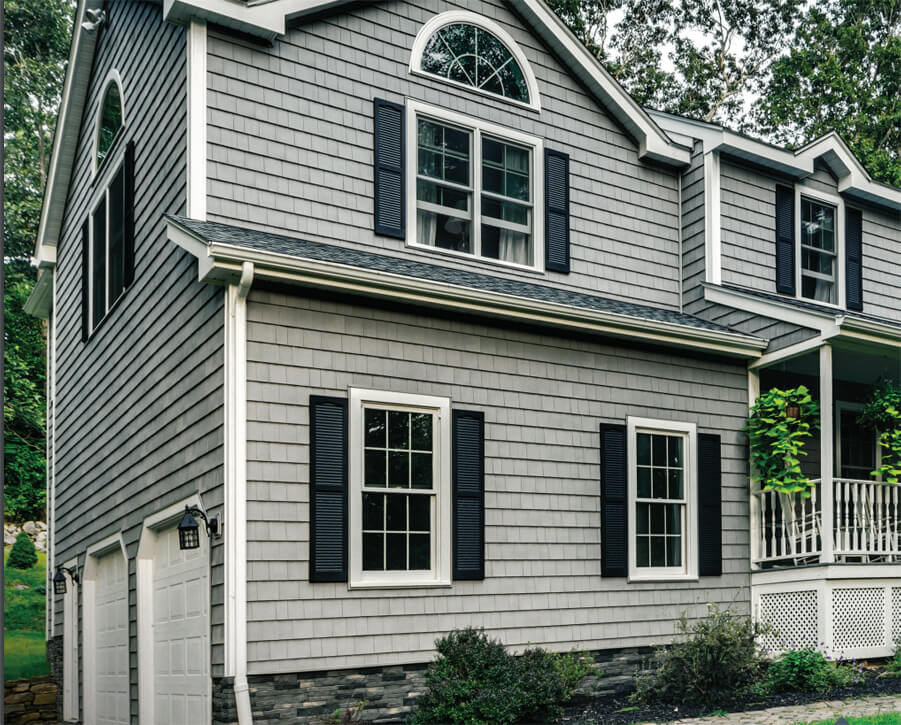 Rustic Cedar 9 - Harvest Cedar: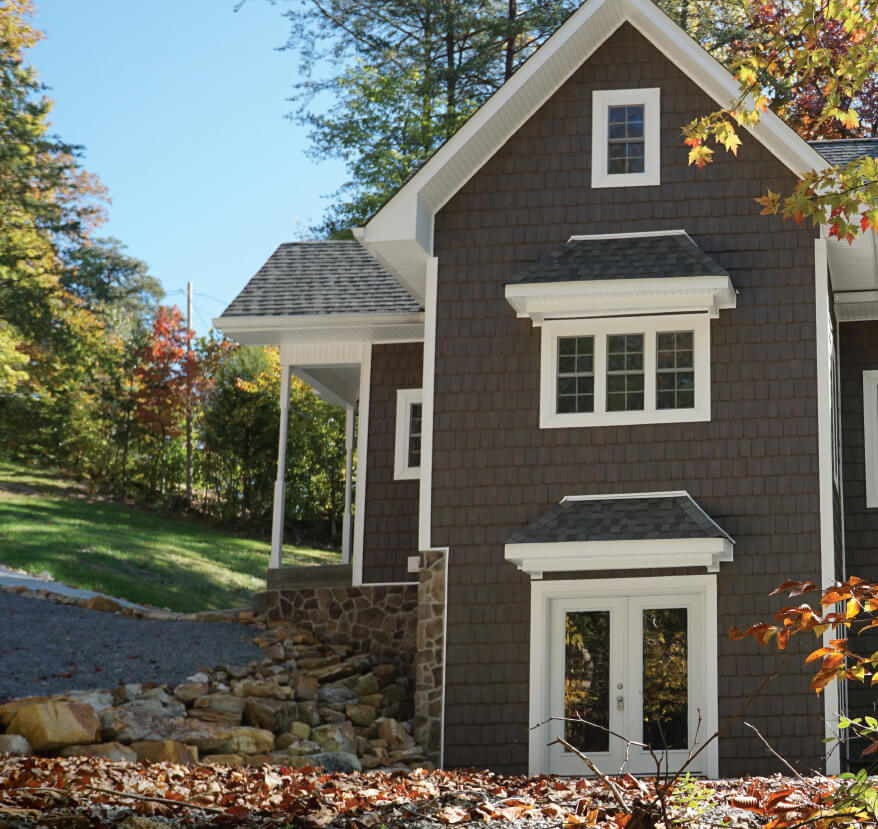 Handsplit Shake - Barn Red